Recipes > Egg Noodles and Roast Duck Soup (Mi Vit)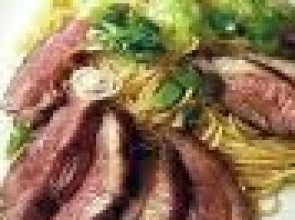 Ingredients
Pound fresh thin egg noodles or 8 ounces dried thin egg noodles
8 cups chicken stock
12 ounces laque duck, thinly sliced
3 scallions, trimmed and thinly sliced on the diagonal
1/2 cup cilantro leaves
Preparation Method
1. If using dried egg noodles, put them in a dish with lukewarm water to cover. Let soak until pliable, about 20 minutes.
2. Pour the chicken stock into a pot and bring to a gentle boil over medium heat. Reduce the heat to medium-low and partially coverr until ready to use.
3. Meanwhile, bring a pot filled with water to a boil over high heat. If using dried egg noodles, drain and divide them into 4 equal portions. Place one portion at a time in a sieve and lower it into the boiling water. Untangle the noodles with chopsticks, and boil until tender but firm, 2 to 3 minutes. If using fresh egg noodles, cook them for 3 to 5 minutes. Remove, drain, and place in a large soup bowl. Repeat this step until you have 4 individual servings.
4. Ladle a generous amount of hot broth over each serving of noodles, add the sliced duck meat, and garnish with scallions and cilantro leaves.