Recipes > Creamed Corn and Chicken Soup (Sup Bap Ga)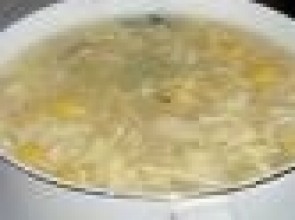 Ingredients
4 cups pork stock or chicken broth
2 tablespoons vegetable oil
4 scallions, thinly sliced
1/4 teaspoon salt
2 tablespoons shredded coriander leaves
1 pound chicken thighs, skin and fat removed
4 garlic cloves, minced
1 tablespoon nuoc mam (Vietnamese fish sauce)
4 teaspoons cornstarch or arrowroot, mixed with 1 tablespoon cold water
freshly ground black pepper
2 cans (each 17 ounces) creamed sweet corn
4 shallots, thinly sliced
1 can (8 ounces) whole corn kernels, drained
1 egg, lightly beaten
Preparation Method
1. Place the stock and chicken thighs in a 3-quart soup pot and bring to a rolling boil. Reduce the heat and skim the surface to remove the foam. Continue skimming until the foam ceases to rise. Simmer for 30 minutes, or until the chicken is tender. Remove the chicken; refresh under cold running water. Pull the chicken meat apart into small pieces with your fingers; set aside. Discard the bones.
2. Place the creamed corn in a blender and process to a fine puree. Strain the mixture through a fine sieve, pressing to extract as much of the solids as possible, into a bowl. Discard the pulp and reserve the puree.
3. Heat the oil in a large skillet. Add the garlic, shallots and scallions and saute until aromatic. Add the shredded chicken and fish sauce; stir-fry for 1 minute. Set aside.
4. Stir the corn puree, corn kernels and salt into the stock. Bring the soup to a boil. Add the cornstarch mixture to the soup and stir gently until thickened. While the soup is actively boiling, add the egg and stir gently. Continue to stir for 1 minute. Add the chicken mixture to the soup and cook gently until heated through.
5. Transfer the soup to a heated tureen. Sprinkle on the coriander and freshly ground black pepper.