Recipes > Batter-Fried Shrimp (Tom Chien Bot)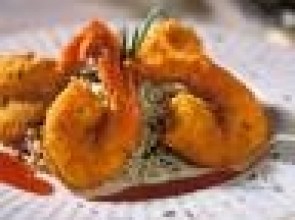 Ingredients
sweet and sour dipping sauce
2 large garlic cloves, minced
2 tablespoons baking powder
1/4 teaspoon turmeric
1 pound raw medium shrimp
freshly ground black pepper
1 teaspoon sugar
vegetable oil, for deep-frying
1 tablespoon nuoc mam (Vietnamese fish sauce)
1 cup all-purpose flour, sifted
1/2 teaspoon salt
cornstarch, for dredging
Preparation Method
1. Prepare the sweet and sour dipping sauce. Set aside.
2. Shell and devein the shrimp, leaving the tail section attached. Combine the shrimp, fish sauce, garlic and black pepper to taste in a bowl. Mix well; set aside to marinate for 30 minutes.
3. Combine the flour, baking powder, sugar, salt, turmeric and 1/4 teaspoon of black pepper in a bowl. Make a well in the center. Stir in 1-1/4 cups of cold water until smooth. Let rest for 1 hour.
4. Heat 2 inches of oil in a wok or deep fryer to 365 F, or until a drop of batter sizzles and rises to the surface. Dredge the shrimp in cornstarch, shaking off any excess. One by one, dip the shrimp in the batter, holding each one by the tail, and coat well. Carefully add the shrimp to the hot oil, a few at a time. Fry, turning once, for 2 to 3 minutes, or until golden brown and crisp. Drain on paper towels. Continue coating and frying until all of the shrimp are cooked.
5. Serve hot, with sweet and sour sauce as part of a meal or as an appetizer.