Recipes > Shrimp Cakes (Banh Tom)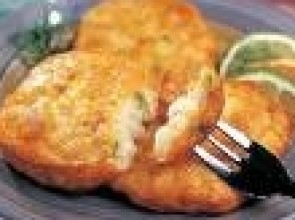 Ingredients
1 pound raw shrimp, shelled and deveined
1-1/4 teaspoons salt
1-1/2 cups vegetable oil
1-1/2 cups all-purpose flour
1/8 teaspoon freshly ground black pepper
1-1/2 cups water
1 medium potato, peeled and cut paper thin, then into very thin shoestring slices
Preparation Method
1. Wash the shrimp and dry well. Mash half of the shrimp to a paste using a mortar and pestle, a blender, or a food processor. Cut the remaining shrimp in half, lengthwise, and set aside.
2. Put the flour in a bowl and add the water gradually, stirring until smooth; the batter should have the consistency of thick cream. Add salt and pepper. Transfer the shrimp paste to the batter. Stir well to combine, then add the potato.
3. In a wok or deep saucepan, heat the oil to 375 degrees. With a round, shallow ladle, scoop up about 2 tablespoons of the batter. Place a whole shrimp in the batter in the ladle. Drop into the hot oil and fry for about 1 minute, then turn over. Fry until the batter is a light golden brown and the shrimp is pink, about 3 minutes in all. Serve hot or cold, with soft lettuce and Nuoc Cham.