Recipes > Stir-Fried Chicken Giblets with Ginger (Long Ga Xao Gung)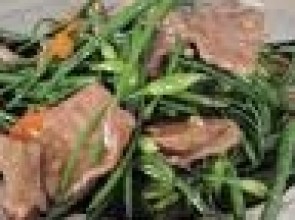 Ingredients
Nuoc Cham
1 pound of chicken livers, cut into bit-size pieces
1 pound mixed chicken gizzards and hearts, trimmed and thinly sliced
4 scallions, cut into 2-inch lengths
3 tablespoons vegetable oil
6 garlic cloves, minced
1 tablespoon sugar
freshly ground black pepper
1 large onion, cut into thin slivers
1-1/2 tablespoons thinly shredded fresh gingerroot
2-1/2 tablespoons nuoc nam (Vietnamese fish sauce)
coriander sprigs
Preparation Method
1. Prepare the Nuoc Cham. Set aside.
2. In a large nonstick skillet, heat half of the oil over moderately high heat. When the oil is hot, add the onion and cook until fragrant, about 1 minute. Add the chicken livers and stir fry for 3 minutes. Remove to a plate. Add the remaining 1-1/2 tablespoons of oil to the pan. Fry the garlic and ginger until aromatic. Add the gizzards, hearts and sugar and cook for 2 minutes longer. Return the livers to the pan along with the fish sauce and 1/2 cup of water. Stir-fry for 2 minutes, or until the sauce reduces slightly. Add the scallions and stir-fry for 30 seconds. Transfer to a heated platter.
3. Sprinkle with black pepper and garnish with coriander sprigs. Serve with rice and Nuoc Cham.