Recipes > Crab Fried with Salt (Cua Rang Muoi)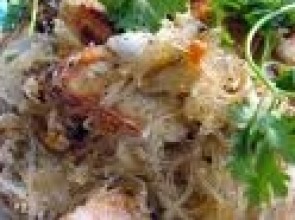 Ingredients
2 large hard-shelled crabs or 1 pound crab claws
2 teaspoons tomato paste
2 tablespoons vegetable oil
salt to taste
3 cloves garlic, chopped
Preparation Method
1. Clean the whole crabs, if using, in cold water. Twist and remove the skirt attached to the underside of each, then remove the spongy parts attached to the crab bodies and chop each one in half. Crack the clows with a heavy knife.
2. In a frying pan, heat the oil over a high flame. Add the garlic and stir for 1 minute; do not allow the garlic to burn. Add the tomato paste and stir for 1 minute longer, then add the crab and sprinkle with salt. Cover, turn the heat down to medium, and cook for 5 minutes.
3. Uncover and stir a few more times, then remove from the heat and transfer to a platter. Serve at once.