Recipes > Stir-Fried Lemongrass Frog's Legs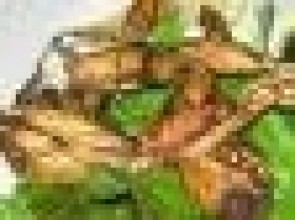 Ingredients
4 to 6 pairs frog's legs, depending on the size (about 1 pound)
3 tablespoons vegetable oil
scallion oil
1/4 cup sugar
2 stalks lemongrass, outer leaves and tough green tops removed, root ends trimmed, and stalks finely ground
1/3 cup fish sauce
2 unripe star fruit, thinly sliced into stars
Preparation Method
1. Rinse, drain, and blot dry the frog's legs thoroughly with paper towels. Then split them in half through the pelvic bone so you have single legs.
2. Whisk together the sugar and fish sauce in a bowl until the sugar is completely dissolved. Stir in 1 tablespoon oil and the lemongrass. Transfer the frog's legs and marinade to a plastic bag, seal it, and refrigerate 2 to 3 hours, turning the bag over every 30 minutes.
3. On each plate, overlap 8 to 10 star fruit slices in a circle. Working in batches if necessary, heat the remaining 2 tablespoons oil in a nonstick pan over high heat. Add the frog's legs and sear until golden and crisp, about 3 minutes per side. Cover and continue cooking for 1 to 2 minutes. Transfer 3 single frog's legs to each plate, carefully placing them in the center of the star fruit garnish. Drizzle with scallion oil and serve hot.