Recipes > Grilled Shrimp with Green Papaya and Mango Salad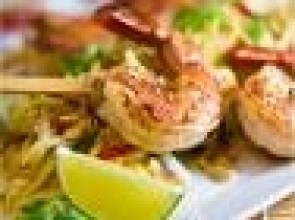 Ingredients
Vietnamese Dressing:
1/2 teaspoon garlic-chili paste
1 tablespoon light brown sugar
1/4 cup fresh lime juice
1/4 cup Thai fish sauce
1 tablespoon chopped mint
1 tablespoon chopped cilantro stems
Salad:
1 green papaya, julienned
1 green mango, julienned
1/2 jicama, julienned
1 carrot, julienned
1/2 cup chopped peanuts
Fresh mint, roughly chopped
Fresh cilantro, roughly chopped
1 thai bird chile, sliced (optional)
Shrimp:
16 jumbo shrimp
salt and pepper
Wooden skewers
Preparation Method
1. Toss together the julienned papaya, mango, carrots, jicama and herbs in a large bowl.
2. In a small bowl, whisk all the ingredients of the dressing together and set aside.
3. Place the shrimp on wooden skewers. Four per person. Season with salt and pepper and grill, about 2 minutes on each side.
4. While the shrimp are grilling pour the dressing over the salad and toss together. Dress on a platter and generously sprinkle with the chopped peanuts. Place the grilled shrimp skewers on top and serve. Lime wedges on the side.