Recipes > Vietnamese Lemongrass Chicken Recipe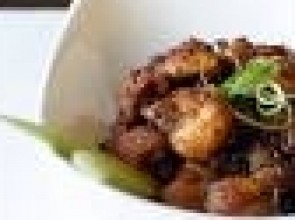 Ingredients
2 tablespoons fish sauce
3 garlic cloves, crushed
1 tablespoon curry powder
1/2 teaspoon salt
2 tablespoons plus 1 1/2 teaspoons sugar
1 1/2 pounds boneless, skinless chicken breast/thigh, cut into 1 1/2-inch pieces
3 tablespoons water
3 tablespoons cooking oil
2 fresh lemongrass stalks, tender inner white bulbs only, minced
1 large shallot, thinly sliced
3 chilies, seeded and minced
1 scallion for garnishing
Preparation Method
1. In a bowl, combine the fish sauce, garlic, curry powder, salt, and 1 1/2 teaspoons of the sugar. Add the chicken meat to coat.
2. In a small skillet, mix the remaining 2 tablespoons of sugar with 1 tablespoon of the water and cook over high heat, stirring until the sugar is dissolved. Cook without stirring until a deep amber caramel forms. Remove from the heat and stir in the remaining 2 tablespoons of water. Transfer to a bowl.
3. Heat a wok over high heat. Add the oil and heat until shimmering. Add the lemongrass, shallot, and chilies and stir-fry until fragrant. Add the chicken and caramel and stir-fry until the chicken is cooked through and the sauce is slightly thickened. Transfer to a bowl and top with the scallion. Serve with steamed white rice.