Recipes > Vietnamese Sugar Cane Shrimp (Chao Tom)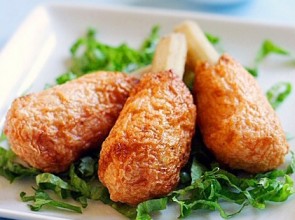 Ingredients
1 1/2 pound raw shrimp (smaller shrimp)
3 cloves garlic
1/8 teaspoon salt
1/2 tablespoon sugar
3 dashes fish sauce
1 egg white, beaten until frothy
2 dashes white pepper powder
2 teaspoons lard or cooking oil
Sugar cane (skin peeled and quartered into 5-inch length)
Preparation Method
1. Rinse and devein the shrimp and pat dry the shrimp thoroughly with paper towels. Put the shrimp, garlic, white pepper, lard/cooking oil into a food processor and blend well to form a smooth paste. Transfer the shrimp paste into a bowl.
2. Beat the egg white with an electronic hand beater until frothy. Combine the shrimp paste with beaten egg white and blend well. Chill in the refrigerator for 30 minutes and then divide the shrimp paste into four (4) equal portions.
3. Oil both hands and wrap the shrimp paste around the sugar cane. Shape them nicely and leave 1.5 inch of the sugar cane exposed. Heat up a wok of oil and deep fry the chao tom until golden brown. Serve immediately.