Recipes > Ha long crab and white fish soup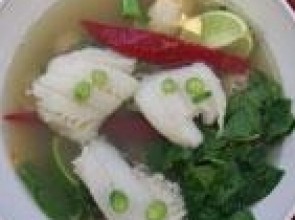 Ingredients
2 whole live Crab
3 cm root Ginger, sliced
1 stick Lemon grass, bruised
4 kaffir Thai lime leaves, bruised
1/2 Shallots, chopped
dash of Fish Sauce, (nuoc mam), plus extra to serve
500g white fish fillets, of your choice
200g vermicelli noodles, cooked and cut into manageable lengths
50g Spring onions, finely chopped
1 large red chilli, cut lengthways and deseeded
2 handfuls fresh ram herbs, (or mixture of coriander and mint), chopped
1 lime, cut into wedges
Preparation Method
1. Hold a crab on its back on a chopping board. Insert the tip of a knife into the crab directly behind the eyes to kill it humanely. Repeat with the second crab and put them in a large saucepan. Cover with water and add the ginger, lemongrass, lime leaves, shallot and a dash of fish sauce. Put the lid on and boil for 10-15 minutes.

2. Turn off the heat, remove the crabs and set aside to cool. Put the white fish into the hot broth and leave to cook in the remaining heat.

3. Pick the crabs of meat, setting aside the white meat for the soup and reserving the brown for another meal.

4. Divide the cooked noodles between 6 serving bowls. Add the spring onions, crab, chilli, herbs and lime.

5. Bring the broth back to the boil and ladle over the serving bowl of ingredients, making sure you give everyone a piece of white fish.

6. Put pepper and fish sauce on the table so that guests can season to their own taste.