Recipes > Vietnamese tamarind beef with peanuts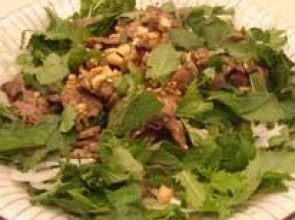 Ingredients
400g rump of beef, cut into thin slices
2 tsp Fish Sauce
2 tsp Soy sauce
freshly ground black pepper
2 tbsp vegetable oil
2 cloves Garlic, finely chopped
2 tbsp tamarind pulp, dissolved in 75ml water
4 tsp caster sugar
1 Onion, peeled and finely sliced
2 tbsp rice wine, vinegar
1 small handful Coriander, leaves
1 small handful Mint
1 small handful Rocket, mustard leaves or watercress
100g Peanuts, blanched, dry roasted and roughly chopped
Preparation Method
1. Mix together the fish sauce, soy sauce and black pepper. Add the beef, stir to coat then marinate, covered, in the fridge for 30 minutes.

2. Heat half of the oil in a heavy-based pan and fry the garlic for 1-2 minutes, or until golden-brown. Add the tamarind liquid and half of the sugar and cook for 6-8 minutes, or until the liquid in the pan has reduced to a sticky consistency.

3. Place the onions into a bowl along with the rice wine vinegar and the remaining sugar. Season with a pinch of salt, then mix together and set aside to marinate.

4. Heat the remaining oil in a large pan and fry the marinated beef slices in small batches for 3-4 minutes, or until golden-brown and cooked to your liking. Set aside.

5. Roughly chop the coriander, mint and the salad leaves and arrange onto a large serving dish. Spoon the semi-pickled onions over the top, drizzling over the marinating liquid as well. Pile the beef on top of the onions and drizzle over the caramelised tamarind syrup. Garnish with chopped roasted peanuts and serve.