Recipes > Vietnamese salad with nuoc nam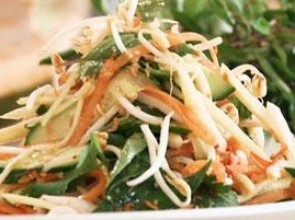 Ingredients
For the dressing
For the salad
Preparation Method
1. For the dressing: blend the garlic, chillies and palm sugar to a paste in a blender or food processor (alternatively pound in a pestle and mortar). Add the fish sauce, water and lime juice and set aside.

2. Slice the cabbage, shallots, cucumber and papaya finely and place in a bowl. Pour over a generous amount of dressing and the finely sliced chilli, and scatter over the coriander, mint and Vietnamese mint.

3. Finely slice the coconut and add to the salad with the bean sprouts. Sprinkle with the fried shallots, roasted peanuts and sesame seeds.

4. Serve with the sesame crackers and more dressing on the side.