Recipes > Vietnamese Prawn Rolls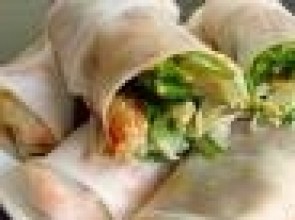 Delicate Vietnamese-style spring roll wrappers are filled with rice noodles, diced prawns, shredded carrot, lettuce and basil and dipped in warm hoi-sin sauce.
Ingredients
250g (9 oz) rice vermicelli

225g (8 oz) cooked, peeled prawns, cut in half lengthwise

8 rice paper (spring roll) wrappers

1 carrot, julienned

1/2 head lettuce, shredded

1 bunch basil, chopped

100ml (4 fl oz) hoisin sauce

water as needed
Preparation Method
1. Bring a medium saucepan of water to the boil. Remove from heat. Place rice vermicelli in boiling water, remove from heat, and let soak 3 to 5 minutes, until soft. Drain, and rinse thoroughly with cold water so that they don't stick together.
2. Fill a large bowl with hot water. Dip one rice wrapper in the hot water for 1 second to soften. Lay wrapper flat, and place desired amounts of noodles, prawns, carrot, lettuce and basil in the centre. Roll the edges of the wrapper slightly inward. Beginning at the bottom edge of wrapper, tightly wrap the ingredients. Repeat with remaining ingredients.
3. In a small bowl, mix the hoisin sauce with water until desired consistency has been reached. Heat the mixture for a few seconds in the microwave.
4. Serve the spring rolls with the warm dipping sauce.