Recipes > Nuoc Cham Sauce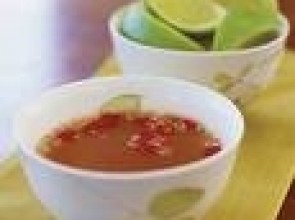 A classic Vietnamese dipping sauce.
Ingredients
2 cloves garlic, minced
1 teaspoon dried crushed chillies
3 tablespoons caster sugar
2 tablespoons lime juice
4 tablespoons fish sauce
225ml (8 fl oz) water
Preparation Method
1. In a medium bowl combine the garlic, chillies, sugar, lime juice, fish sauce and water. Mix all together, adjusting to taste.