Recipes > Pork & Shrimp Summer Roll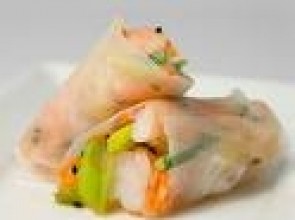 This Vietnamese recipe makes 25 summer rolls
Ingredients
8 oz of rice vermicelli
4 oz of port loin
1 lb of shrimp
1 cup of fresh basil leaves
1 cup of mint leaves
1 cup of cilantro leaves
1 head of red leaf lettuce
3 cloves of garlic, chopped
2 tablespoons of fish sauce
3 tablespoons of roasted brown rice
1/4 teaspoon of salt
1 pack of 25 rice paper
Preparation Method
Pork
In a sauce pan, bring 2 cups of water and salt to a boil. Place the whole piece of pork loin into the boiling water and cook for 10 minutes. Drain the water and let it cool for at least 15 minutes. Cut it into thin slices.
In a small frying pan, heat up oil and add garlic. Fry garlic until golden brown. Mix in garlic with pork and roasted brown rice and fish sauce.
Shelled Shrimps
Bring 5 cups of water to a boil. Sprinkle it with a dash of salt. Place shrimps into the boiling water for 2-3 minutes. Drain it. Cut each shrimp in half.
Rice Vermicelli
In a large pan, bring 7 cups of water to a boil. Put rice vermicelli into the boiling water for 5 to 8 minutes. Pour into a colander and quickly rinse it with cold water.
Ready to roll
Dip rice paper into a large bowl of warm water, place it on a rack for 1 minute until it is soft and flexible. Place a little of rice vermicelli, lettuce, basil, mint, cilantro, pork, shrimp on the paper. Roll firmly.