Recipes > Crispy Soft-Shell Crabs and Clams (Cua Va Nghieu Lan Bot Chien Gion)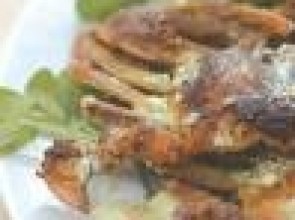 Ingredients
12 clams, soaked in water for 1 hour
oil for deep-frying
1 tablespoon garlic oil
BATTER: 1 cup all-purpose flour
1 tablespoon vinegar
1 teaspoon sugar
8 cups lightly salted water
cilantro (for garnish)
2 teaspoon pepper
1 cup rice flour
2 tablespoons soy sauce
6 soft-shell crabs, cleaned and trimmed
MARINADE: 1 teaspoon sesame oil
1 teaspoon salt
water
1 teaspoon annatto seed oil
Preparation Method
1. MARINADE: Boil clams in salted water until they open. Remove meat. For the marinade, combine ingredients, add crab and clams, and leave for 45 minutes.
2. To prepare the batter, turn the crabs and clams in the combined flours, making sure both sides are well dusted. Combine all the batter ingredients (including the remaining flour) in a large bowl. Dip the clams and crabs into the batter, ensuring they are evenly coated. Deep-fry the battered crabs and clams until golden brown. Remove and set on absorbent paper towels to soak up any excess oil.
3. Garnish with cilantro. Serve with chili, soy sauce and sweet and sour sauce.
4. HELPFUL HINT: Rather than deep-frying, this is a good recipe for pan-frying (Western-style) in butter. Use a large pan or skillet, and a very hot flame, making sure not to burn the butter. Cook for 2-3 minutes on each side.