Recipes > Curried Frog's Legs (Ech Xao Cari)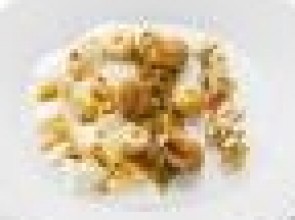 Ingredients
4 to 6 pairs frog's legs, depending on the size (about 1-1/2 pounds)
4 ounces fresh ginger, peeled and julienned
coarse sea salt
1 tablespoon vegetable oil
1 tablespoon curry powder
freshly ground black pepper
1 small yellow onion, peeled and sliced into thin wedges
2 tablespoons fish sauce
6 sprigs cilantro, root ends and most stems removed
Preparation Method
1. Rinse, drain, and blot dry the frog's legs thoroughly with paper towels. Then split them in half through the pelvic bone so you have single legs.
2. Heat the oil in a wok or nonstick pan over high heat. Add the onion and ginger and stir-fry until the onion is just translucent and the ginger is crisp and fragrant, 3 to 5 minutes. Add the frog's legs, curry powder (sprinkled evenly), and fish sauce. Season with salt and pepper and stir-fry until the frog's legs are cooked through and crisp on the outside, about 7 minutes. Transfer to a serving plate and garnish with cilantro.
3. VARIATION: Substitute 1 pound baby squid, cleaned and halved lengthwise, for the frog's legs. In step 2, stir-fry the squid until cooked, 2 to 3 minutes.