Recipes > Fried Squid (Muc Chien)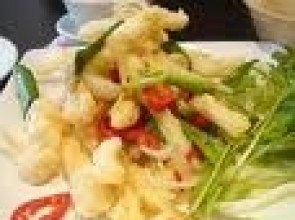 Ingredients
Nuoc Cham (Dipping sauce)
2 teaspoons nuoc mam (Vietnamese fish sauce)
cornstarch, for coating
1 pound fresh squid
2 tablespoons chopped fresh dill
vegetable oil, for deep-frying
2 large garlic cloves, minced
freshly ground black pepper
Preparation Method
1. Prepare the Nuoc Cham (Dipping sauce). Set aside.
2. Separate each squid head and body by gently pulling apart. Cut off and reserve the tentacles; discard the head. Pull our the "pen" and discard the entrails. Peel off the membrane from the body of the squid. Wash the squid until cold running water. Cut the body into rings.
3. In a bowl, combine the squid and tentacles with the garlic, fish sauce, dill and black pepper to taste; toss well. Let marinate at room temperature for 30 minutes. Dredge the squid rings and tentacles in cornstarch, shaking off any excess.
4. In a wok or wide heavy pan, heat 3 inches of oil to 365 F. Working in batches, drop in the squid pieces and deep-fry for 1 minute. Remove and drain on paper towels. Continue until all of the squid is fried.
5. Just before serving, heat the oil to 375 F. Add the squid and deep-fry for 30 seconds, or until golden brown. Remove and drain on paper towels. Serve hot with the Nuoc Cham.