Recipes > Glazed Spareribs (Suon Rang)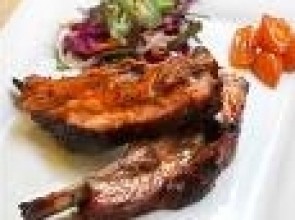 Ingredients
1 tabespoon vegetable oil
2 tablespoons nuoc mam (Vietnamese fish sauce)
8 garlic cloves, crushed
freshly ground black pepper
3 pounds lean spareribs, cut into 2-inch pieces
1 tablespoon soy sauce
2 small red bell peppers, each cut into eighths
coriander sprigs, for garnish
2 tablespoons sugar
2 medium onions, each cut into eighths and separted
1 bunch of scallions, cut into 2-inch sections
Preparation Method
1. Heat the oil in a wok or large skillet. Add the ribs and cook on both sides until browned, about 25 minutes.
2. Add the sugar and stir for 10 minutes.
3. Pour off all but 1 tablespoon of fat from the wok. Add the fish sauce and soy sauce and stir for 5 minutes. Add the onions, garlic, bell peppers and scallions. Stir-fry for 3 minutes longer, or until the onions are lightly browned and the peppers are slightly soft. Remove to a serving platter.
4. Sprinkle with black pepper and garnish with coriander sprigs. Serve with rice.