Recipes > Lemon Chicken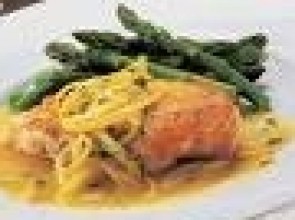 Lemon chicken can be served alone, with plain rice or rice vermicelli and a garden salad.
Ingredients
1 pound boneless chicken, cut into large cubes

2 teaspoons honey

1/2 teaspoon salt

1/2 teaspoon black pepper

1 teaspoon sugar

2 garlic cloves, finely minced

1 teaspoon oil

1/2 teaspoon cornstarch

2 scallions, finely sliced

3 tablespoons lemon or lime juice

2 tablespoons fish sauce

1 tablespoon oyster sauce

2 tablespoons lemon or lime zest, grated

12 bamboo skewers, soaked in water for at least 10 minutes

Sweet and Sour Fish Sauce (See Link in Directions for Recipe)

Garnish:

bean sprouts

basil sprigs

mint sprigs
Preparation Method
Marinate chicken in a mixture of honey, salt, pepper, sugar, garlic, oil, cornstarch, scallions, lemon or lime juice, fish sauce and oyster sauce. Set aside for 15 minutes. Add grated lemon or lime zest.

Thread marinated chicken onto skewers, leaving two inches free at each end and place on a baking sheet. Heat oven to 375 degrees and bake about 20 minutes until chicken is medium-rare. Turn oven to broil and broil chicken until brown. Do not overcook. Serves 4.

To Serve: Serve with rice vermicelli. Can also be served with rice. Garnish with bean sprouts, basil, and mint.